Initial Survey
Preparing for DME/ HME Accreditation
Are You Asking Yourself?—
Can I Afford This?
We have programs starting at $1000.
Do I Have Enough Time?
We designed our process to fit into your work schedule.
Will I Get the Help I Need?
Your Helper will guide and support you all the way to your survey.
What Happens After Survey?
After your survey we support you in maintaining your accreditation.
---
Re-Survey
DME/HME Accreditation Maintenance
Unannounced Survey!
P&P Up to date?
We keep them up to date for you.
Forms Meet Standards?
Our forms all meet standards
Quality Improvement Studies?
Tools and a Helper to assist you
Licenses Current?
Monthly task list
Step by Step Internet Process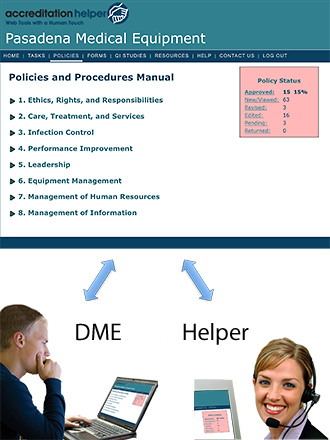 "Accreditation Helper helps me navigate the mind-boggling array of standards and changes to standards required to maintain accreditation. Accreditation Helper is exactly what small companies like ours need. I'd be lost without them."
— Chick Todd,
Performance Improvement Manager,
Hawaii Home Infusion Associates, Inc
Kauai, Oahu & Guam
---
Our customers get accredited and stay accredited
"I highly recommend Accreditation Helper to any DME needing a fast, easy, low cost way to get accredited with The Joint Commission."
— Randy Millican
Clear Choice Home Medical Equipment,
San Antonio, Texas
"'Survey Ready 24/7' is not a cliché at Border Mobility, Inc., it is a way of life. 'We never would have been initially survey ready, nor would we be survey ready today, if it were not for the tireless effort and professionalism of our excellent Consultant Jill Martin. We are where we are today because of Jill Martin. As a leader in the DME field, were are honored to be accredited by the Joint Commission and associated with Accreditation Helper.'"
— F. Richard Leach, CEO
McAllen, Texas